Getting Started
First steps as a new promoter
Introduction
To start earning BSV promoting TonicPow campaigns there are a few simple steps you'll need to know about. Here's your current status with respect to completing your initial profile setup:
Challenge Complete
Congrats! You've already completed this challenge.
Sharing Links
Search from the home page for any search term or browse the campaigns list to find something you like. Click the share button on the campaign page to get a shortlink to share on social media, in a text message to a friend, or in the description of a video you publish online. You can share links anywhere you post to an audience who follows you, whether it's a single person, or a larger channel.
When someone engages with your link, we will credit you with the referral. In some cases this means you will earn a payout for the click itself. In other cases, you may only receive a payment when you achieve some goal designated on the campaign page. It could be both, or even many bonuses when a visitor completes more than one goal. Some goals can even be triggered more than once, and others can be limited to only a certain number of times per visitor. You should read the campaign pages carefully and make sure you understand the payouts being offered before committing to promote a campaign. This could be a product purchase, a newsletter signup, or anything they have set up to trigger the conversion. This part is entirely up to the advertiser, and the configuration of each campaign is detailed on the campaign page.
Where is my payout?
There are many factors that determine whether a click is considered authentic. Visitors using a VPN, repeat visits, or unusual browser software or user behavior may prevent payouts.
Examples
Bad Sharing
Here's an example of sharing without context. In this example, visitors do not know where they will be redirected. Spamming links without context like his is NOT allowed and could result in account suspension or termination.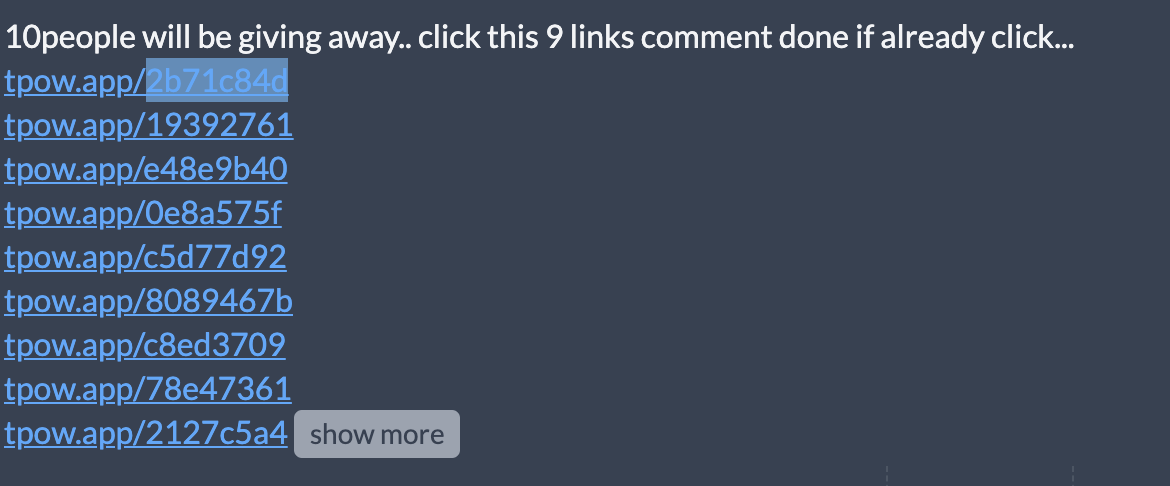 Good Sharing
Here's an example of sharing with appropriate context. In this example, visitors know they will be directed to HandCash when clicking this link. This is the correct way to share TonicPow links.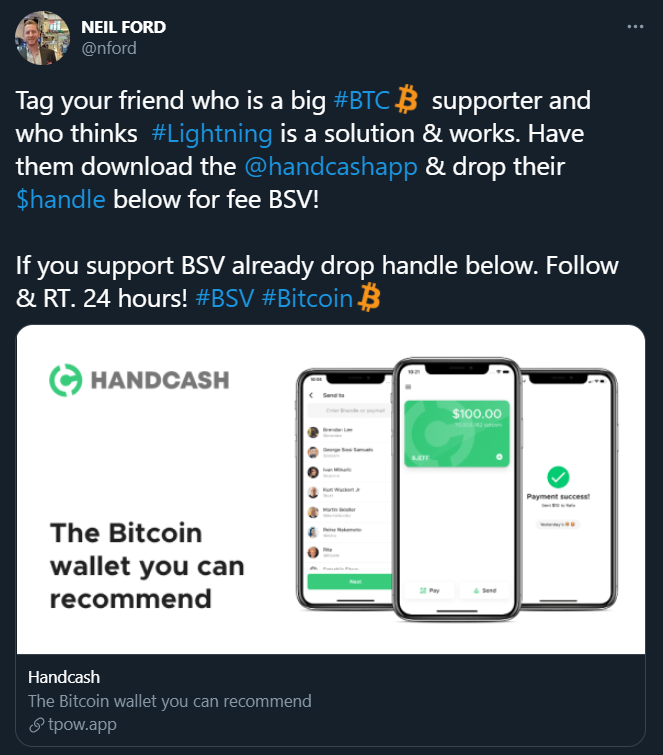 Customizing Share Links
When clicking the "Share" button on any campaign page, your personal share link is shown. Clicking the edit icon next the the link will bring up a form allowing you to customize it. This can help your link look more natural, attracting more engagement.
Some campaigns allow you to convert by referral code. This means a visitor you refer doesn't need to click your link, but simply type in your code to trigger a conversion payout. To take advantage of this, customizing your share link is not technically required but will make it much easier for visitors to type in hour referral code at the destination site.
Requesting a Withdrawal
Once you've completed your basic profile, the request withdrawal option on the Earnings page will become available. Your request will be reviewed to make sure your links were shared in compliance with our terms of service. This step is important, and designed to ensure our advertisers are protected from abuse.
Pro Tip:
You can unlock instant payouts by completing challenges, earning experience points, and leveling up!
Campaign Requirements
When an advertiser creates a campaign, they can specify which 3rd party accounts you must have linked in order to be eligible for that campaign. These campaigns may feature higher payouts or additional conversion goals (bonus payouts). Here's your current status for linking 3rd party accounts:
Campaigns may also require Identity Verification or an active contract to be eligible.
Contracts
Contracts allow advertisers and promoters to agree on payout rates for campaigns. To learm more about how contract work, see the Guide page.
Instant Payouts
Once you have established a good reputation with an advertiser they may allow instant payouts on a campaign. This feature can be enabled by either the advertiser or promoter as a part of the contract negotiation process. Once this has been enabled on a campaign, payouts will be delivered directly to your wallet.
Users with accounts in good standing prior to the introduction of this feature were started at level 17 as a reward for being early adopters!
Blocking
Campaign creators will have digression over which promoters they deem eligible. If a campaign owner suspects the traffic you are sending is fraudulent or of significantly low value, they may choose to block a promoter from participating in their campaigns.
This feature highlights the fact that it is in your best interest to bring the most value possible to the campaign creators in exchange for the payouts they are providing.
Next: Campaign Contracts